Gluten Free Cereals for a Gluten Free Breakfast
Below are lists of gluten free cereals available from both mainstream grocery stores and brands, and those specifically made for the gluten free diet.
General Mills
Rice Chex

Corn Chex

Cinnamon Chex

Chocolate Chex

Strawberry Chex

Honey Nut Chex

Kellogg's SEE NOTE

Rice Krispies*--make sure box says Gluten Free, there are 2 versions. NOTE: Kelloggs is discontinuing their gluten free version of Rice Krispies!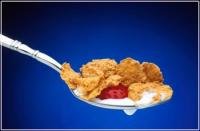 Post has two gluten free varieties.

Post


Post Fruity Pebbles

Post Cocoa Pebbles

In addition to these mainstream varieties, there are also some brands made specifically for the gluten free diet. These can be found at Whole Foods, Wild Oats, Sprout's and some health food stores. Some grocery stores with gluten free sections will also carry some of them.
Be sure to read the ingredients if you have other food intolerances. Gluten free oats are used in all oat products listed here as gluten free.


Nature's Path:


Organic Whole O's (corn and rice cereal)

Fruit Juice Sweetened Corn Flakes (box or bag)

Crispy Rice Cereal

Honey'd Corn Flakes (box or bag)

Mesa Sunrise Flakes (Corn, Flax and Amaranth)(box or bag)

EnviroKids Organic Gorilla Munch (Corn spheres like Kix)

Envirokids Organic Koala Crisp (chocolate flavored brown rice puffs)

Envirokids Organic Leapin Lemurs (Peanut flavored spheres and Chocolate Spheres made of corn)

Envirokids Organic Amazon Frosted Flakes (corn flakes)

Envirokids Organic Panda Puffs (Peanut flavored Corn Puffs)
Also Bars and Waffles:
Organic Buckwheat Wildberry Frozen Waffles

Organic Homestyle Frozen Waffles

Organic Mesa Sunrise Frozen Waffles

Vanilla Animal Cookies (brown rice and corn)

Envirokids Organic Crispy Rice Bars

Envirokids Organic Koala Chocolate Crispy Rice Bars

Envirokids Organic Cheetah Berry Crispy Rice Bars

Envirokids Organic Fruity Burst Crispy Rice Bars

Envirokids Organic Lemur Peanut Choco Drizzle Crispy Rice Bars

Perky's 100 % Natural Cereal
Perky O's Original

Perky O's Apple Cinnamon

Perky O's Frosted O's

Perky's Nutty Flax--name changed to Crunchy Flax

Perky's Nutty Rice--name changed to Crunchy Rice

Enjoy Life Brand


Cinnamon Crunch Granola

Very Berry Granola



Glutino Brand



Apple Cinnamon Cereal

Honey Nut Cereal

Bakery On Main
Apple Raisin Walnut Granola

Nutty Cranberry Maple Granola

Extreme Fruit and Nut Granola

Cranberry Orange Cashew Granola

Rainforest Granola

Erewhon Brand
Crispy Brown Rice Cereal with Berries

Aztec Crunchy Corn and Amaranth Cereal

Rice Twice

Crispy Brown Rice

New Morning Brand
Kay's Naturals Better Balance
French Vanilla Cereal

Honey Almond Cereal

HOT CEREALS


Nu-World's Foods



Puffed Amaranth

Amaranth Berry Delicious

Ancient Harvest
Cream Hill Estates
Lara's Rolled Oats(not cross contaminated)

Gluten Freeda (certified gluten free oats)
Apple Cinnamon w/Flax Instant Oatmeal

Banana Maple w/Flax Instant Oatmeal

Maple Raisin w/Flax Instant Oatmeal

Variety Pack Instant Oatmeal

Bob's Red Mill
Mighty Tasty Hot Cereal

Brown Rice Farina Creamy Rice Cereal

There may be some store brands in addition to these that are not listed. Other store brands may be available on their own lists.
I recommend the Bob's Red Mill rice farina, I use it myself. I've also enjoyed many of the Nature's Path gluten free cereals.
Please note that it is recommended to wait until you have been gluten free for one year before including oats in the diet.


* Note: Kellog's Rice Krispies (the gluten free version only)are made in a separate gluten free production facility. They also test each batch for gluten.
General Mill's Chex Cereals are made on dedicated lines.


You can also find bagels, donuts, and more delicious baked breakfast foods at Katz Gluten Free



Please note that any purchase made through a link may result in a small commission that helps to support this site. Thank you.
Milk Alternatives
If you are casein or lactose free, you will need a milk substitute. There are several options available. I use Pacific brand unflavored rice milk in "cream of" soup recipes.
For milk alternatives you can use rice, almond or soy milk, or you can try my own favorite, Dari-Free. It is made from potato, and because it is a powder, is very versatile. You can make it thicker for creamer (like I do for coffee) or thinner for milk. I use it daily. It is gluten, casein, soy, rice, and msg free. It contains as much calcium as milk.
from Gluten Free Cereals to List of Gluten Free Foods, Shopping

Gluten Free Cereals to Gluten Free Diet Help Home Page