Restaurants With Gluten Free Menus
Listed below are nation-wide chain restaurants that serve gluten free food. Each one has a link so that you can have a look at their gluten free menus. These are probably the safest choices available for dining out at this time.
Hopefully this list will get longer over time as awareness of celiac disease grows. In the meantime, these are the options currently available.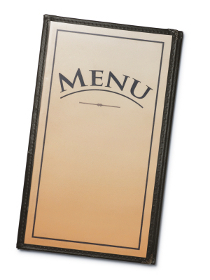 With a little searching you may find other restaurants that serve gluten free food in your local area. I will try to get some with at least regional areas soon.
This kind of information is really helpful especially when you are traveling. If you know you will be going on a trip, try to locate which restaurants can accomodate your dietary needs and plan to stay near them if possible.
Even at home, sometimes you just want to go out for a meal. When you want to go out with friends, these restaurants can provide for your needs while still being enjoyable for those not on the diet.
Note: The menus open in a new window. This means that a pop up blocker might prevent them from opening unless you hold down the control key as you click on them.


Outback Steak House:
PF Chang's (Their teas are also gf according to Revolution Company who makes them.) Click on G.F. and download the PDF file.
Pei Wei Asian Diner(owned by PF Chang's)Click on Gluten Free
Chili's Grill and Bar
Bonefish Grill
Olive Garden
Pizzeria Uno
Is currently available in 32 states.
There are some other restaurants that will try to accommodate your needs, as mentioned above. You will have to look for local places that you may have a relationship with, or where the management is understanding and willing to work with you. Hopefully, there will soon be many more restaurants with gluten free menus.
from GF Menus back to Gluten Free Diet Help Home Page

from GF Menus back to Gluten Free Restaurants