Quick Chicken Soup Recipe for the Gluten Free Diet
This quick chicken soup is a fast cooking version, that will be filling and comforting, especially while you are healing.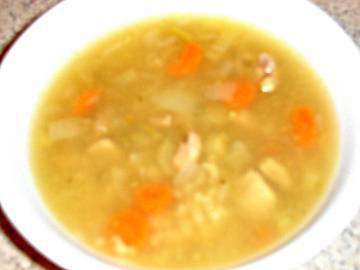 Time required 45-60 minutes (if meat is not frozen) About 6 servings
Ingredients:
3/4 -1 pound boneless, skinless, chicken meat, cut up into bite sized pieces (boneless thigh or breast meat)
3 cups water
3 medium carrots cut into thin rings (or half rings for kids)
3 medium stalks celery, cut into 1/4 inch pieces
1 small onion, diced
1 Tablespoon dried parsely leaf
dash ground Cloves (optional)
dash black pepper
5 1/2 cups Swanson Chicken Broth (3 cans of 14.5 oz)
2 tsp Herb Ox Chicken Bouillon
1/2 cup-2/3 cup instant rice or 1/4-1/3 cup regular rice
Your pot should hold 6 quarts or more.
Directions:
Put cut up chicken, 3 cups water and the Chicken Broth into pot. (The chicken can be cut up and frozen before use. If you use it frozen, let it sit in the liquid to thaw but break it up once it's thawed so it can cook evenly)
Begin heating the broth while you wash and cut up your vegetables. You can saute the vegetables in butter or margarine, until just tender, if you wish, but it is not necessary. Bring pot to a boil, then turn down to simmer. Allow to simmer 10-15 minutes. Skim any scum off the top, then add bouillon, herbs and vegetables. If using regular rice, add it now as well.
Bring heat back up and simmer for 20-25 minutes. If using instant rice, add it at the 20 minute mark. If needed, simmer an additional 10 minutes or until vegetables and rice are tender. Adjust salt and pepper to taste. Serve.
Variation: You can use 5 cans of chicken broth and omit the bouillon and water from the recipe.
Freezes well.

from Quick Chicken Soup back to Gluten Free Recipes

from Quick Chicken Soup back to Gluten Free Diet Help Home