Gluten Free Turkey Pot Pie Recipe
A Tasty Gluten Free Meal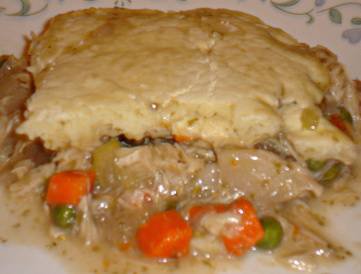 This turkey pot pie recipe can be made using cooked white or dark meat, whichever you prefer. A gluten free pot pie makes a great meal for a family. Leftovers will last 2-3 days, and give you some gluten free meals for those times you need them.
It is much easier than it looks. It comes together quickly once the vegetables are cooking.

Filling:
3 carrots diced

3 stalks celery, chopped

1 medium onion, diced

5 potatoes, peeled, 1/2"chunks

1/2 cup frozen peas

3 cups chicken broth

2 1/3 cups water

3/4 tsp salt

1/4 tsp black pepper

1 1/2 teaspoons dried oregano

4 Tablespoons dried parsely

1 teaspoon dried thyme or 1/4 tsp ground thyme

2 2/3 cups chunked (1 inch or less) cooked turkey meat

3 Tablespoons cooking oil


For White Sauce:

1/4 cup plus 1 Tablespoons cooking oil

1/3 cup sweet rice flour or potato flour(or add 2T potato)

1 cup milk or milk substitute


Crust:
1 1/2 cups gluten free flour mix (I like my Blend below)

1/2 tsp salt

2 teaspoons sugar

2 tsp baking powder

1 cup milk or milk substitute


If you prefer, you can use a gluten free pie crust recipe, but this cobbler type topping is easier and faster.

Recipe for the Gluten Free Flour Blend I use:
1/2 cup white rice flour
1/4 cup sweet rice flour
1/4 cup corn flour (or use brown rice flour)
1/4 cup corn starch
1/4 cup potato starch
Combine the above in a bowl or plastic bag and mix well. Use in crust recipe above.
Directions
Once I have chopped the vegetables, I usually start by putting all the spices in one small bowl. I then assemble the crust flour blend. I measure the flour and oil for the white sauce into the small pan. Then I start cooking the vegetables.
In a large pot or dutch oven, heat 3 tablespoons oil and add the onions, carrots, parsley, oregano, thyme, salt, pepper and then celery. Allow to cook until vegetables are softened.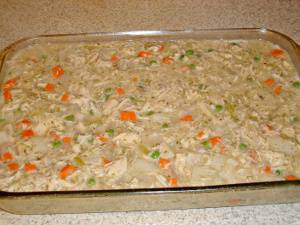 Add chicken broth and water and bring to a boil. Allow it to simmer about 2 minutes, then add the potatoes and cook until the potatoes are tender. Add frozen peas.

In another saucepan, mix the 1/3 cup flour and 1/4 cup plus 1 T oil until blended, and bring to simmer. Brown for about 2 minutes and then add the milk or milk substitute to make a white sauce.
When the mixture is almost thickened, add the turkey meat or chicken meat. Mix to cover meat with sauce. When it returns to a simmer, pour this mixture into the vegetable mixture and stir it to blend well. Taste the mixture to adjust the salt and pepper to personal taste. (Salt may need increasing unless you substituted bouillon for broth) When all is thickened, pour it into a greased 9x13 pan. (Glass is best if you have one available.)
Use only enough filling to leave 1/2 inch head space in the pan so that it won't boil over, and there will be room for the topping crust.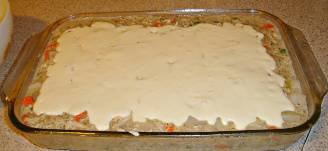 Preheat the oven to 350 degrees while preparing the crust.

Mix dry ingredients for crust and then add the milk. when the crust is ready, pour it over top of filling, leaving 1/2 inch space all around edges of the. See the Photo.

I pour all but a few tablespoons in ribbons, zigzag back and forth until most is covered. The last couple of tablespoons are used to fill any gaps. Even out the topping with a wet spatula.

Place it into the preheated oven and bake for 45-60 minutes, until crust is lightly browned and filling is bubbling.

This tasty gluten free pot pie recipe is one of our family favorites. I hope it will become one of the favorites in your family as well. If you don't have chicken broth, you can use some chicken boullion, instead of broth, but you might have to adjust the amount of salt you add.


from Gluten Free Pot Pie back to Gluten Free Diet Help Home Page

from Gluten Free Pot Pie back to Gluten Free Recipes