Gluten Free Eating Out at Restaurants
One of the best options for gluten free eating out is at an ethnic restaurant. For example, many Mexican Food restaurants have items that are naturally gluten free. Or they may be able to substitute a corn tortilla for a flour one in some dishes like Fajitas. This is also true for Oriental and other dishes, provided they use gluten free soy sauce. Communicating your needs is the difficult part in this situation.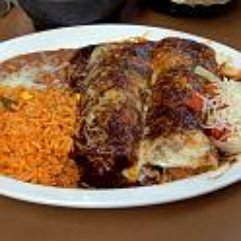 Do you have a favorite Chinese food place? Maybe even an Indian or Thai restaurant? If they can barely answer about wheat, how do you ask about gluten? How do you convey the danger of cross contamination in an Oriental, Mexican or other restaurant?
Thanks to the efforts of a gluten free couple who tackled this issue there is help. The cards come in ten different languages. They explain about celiac disease in the language for that restaurant. You can buy them individually for one language, or the whole set of ten.
These cards tell them what gluten is, in their own native language. They discuss cross contamination too, and how to avoid it. This is the best option for communicating with a manager who is willing, but needs clear information on what your needs are, and how to safely serve you.
They are available at the Triumph Dining website. You can find them at: Triumph Dining
Have you ever had to go on a trip and wondered where to find something safe to eat? It makes it even harder if you don't know the people at the restaurant. Even the card that is in English makes the issues very clear without you trying to explain it. That way you can have the manager or hostess find out if they can accommodate you at that restaurant before you even sit down. It saves a lot of confusion. If their kitchen is not set up in a way that they can avoid cross contamination they will tell you that they can't accommodate you. Much less embarrassing than finding out after you've sat down at a table.
The company also offers a guide to restaurants that are familiar enough with the gluten free diet to be willing to work with you in each state, as well as more information on gluten free foods at the stores. These are separate purchases though.
The cards discuss gluten only. If you have other allergens you will have to find out the word for "Milk" or "Egg" or "Peanut" in that language and tell them that it also applies for that allergen. If you can't find the word, bring a picture of the item, like a magazine picture of a glass of milk. That will let them know that it is also a problem for you.


from GF Eating Out back to Gluten Free Diet Help Home Page

from GF Eating Out back to Gluten Free Restaurants