GF Cherry Cobbler--One of My Quick Gluten Free Dessert Recipes
This is one of my easy gluten free dessert recipes that you can make in minutes. It is quicker to make and much less work than cherry pie, but just as satisfying. Great for company or for whenever you want a treat!
Gluten Free Ingredients for Crust: 1/2 cup Featherlight Flour Mix


1/4 cup sugar (cut to 1/8 cup if you want it less sweet)
1/4 tsp salt
1/4 tsp guar gum or xanthan gum
1 tsp baking powder

Mix well, then add:
1/3-1/2 cup milk or milk substitute


Blend the above ingredients together in a bowl until smooth.

1 can cherry pie filling
1 Tbsp confectioner's sugar

Preheat oven to 400 degrees farenheit.
Butter (or use margarine) bottom and insides of a 5x9 glass or metal loaf pan. Empty contents of one can of cherry pie filling into the buttered pan. Spread it to make it flat and even.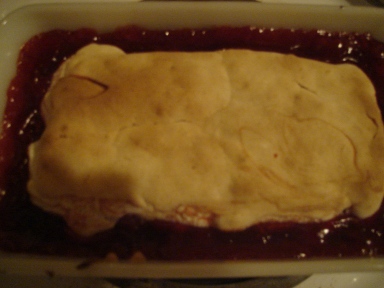 Spoon crust mixture onto top of pie filling, leaving a 1/2 inch space around edges of pan. Even out to make a flat crust. Put pan into preheated oven and bake about 35 minutes or until crust is golden brown. Let cool about 15 minutes. Sprinkle top with confectioner's sugar. Serves 4-6.

If you want to make more servings, the recipe can be doubled but will need 2-3 cans of pie filling, about 2/3 to 3/4 cup milk, and bake 45 minutes in 9x13 pan. I hope you will enjoy this gluten free cobbler. It is a great gluten free dessert.
from GF Cherry Cobbler back to Gluten Free Diet Help Home Page

from GF Cherry Cobbler back to Gluten Free Recipes