Fried Rice Recipe--One of the Best Easy G F Recipes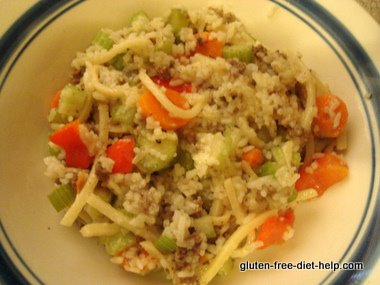 Ingredients


1 pound ground beef, browned

1 small can bamboo shoots

1 Cup long grain white rice

3 carrots, diced

3 stalks celery, chopped

1 red or green bell pepper, chopped

2 teaspoons beef bouillon

2 1/4 cups water



Directions
In a large skillet, brown the meat, remove it from the pan, and set it aside. Brown the uncooked rice until lightly brown in the remaining grease. Drain the grease.


Add the water, vegetables, and bamboo shoots to the browned rice in the pan. Return the meat to the pan. Mix it all in. Bring to a boil, then turn heat down to simmer.

Add the beef bouillon and stir in well. Allow it all to simmer for 20-25 minutes and serve. Season with soy sauce if desired.


If you prefer or don't have time to fry the rice, you can also make it this way:

Brown the ground beef, and drain the grease. Add the uncooked rice, the carrots, celery and bamboo shoots. Mix in. Add the water and bring it all to a boil. Turn down the heat. Add the bouillon and mix to avoid lumps. Simmer the entire mixture for 20-25 minutes.



This recipe can easily be increased by half or doubled if you need more servings, just remember to use a larger pan. If you need to stretch the meat, you can increase the remaining ingredients by half. It will still taste good even with less meat. The picture above is the stretched version.
Consume leftovers within 2 days, or freeze them for a lunch. I hope you will enjoy my fried rice recipe and that it becomes one of your favorite gluten free meals.


from Fried Rice Recipe back to Gluten Free Recipes

from Fried Rice Recipe back to Gluten Free Diet Help Home Page