Simple Chicken Stir Fry for a Quick Gluten Free Meal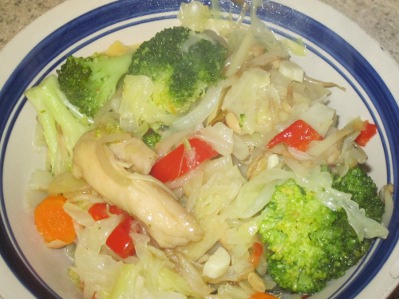 Serves 4 for the basic recipe, more if you add other vegetables.
Ingredients:
1 lb chicken breast or boneless thighs cut into 1/2" strips or chunks


3 Tablespoons cornstarch


2 Tablespoons gluten free soy sauce (La Choy)


1 inch ginger, peeled and chopped, or substitute 3/4-1 tsp ground ginger


1-2 garlic cloves, minced or substitute 1/2 tsp garlic powder


2-3 teaspoons sesame oil


3 Tablespoons cooking oil (corn, vegetable, canola)


1 tsp chicken bouillon or 1/2 tsp bouillon and 3/4 cup chicken broth or stock


1 cup water, boiling (1/4 cup water, boiling, if using broth or stock)


2 cups broccoli florets, (you can peel the tender parts of stem and cut diagonally)


1 cup thinly sliced carrots, diagonal slicing is nicer


1 cup celery cut to 1/4 inch thickness


1 medium onion, cut into wedges lengthwise, then sliced lengthwise into strips


Directions:
Make the rice to put the stir fry on.
Make your sauce with the bouillon, dissolving it in boiling water. (If using broth, pour 1/4 cup boiliing water onto the bouillon and fill the cup the rest of the way with the stock.)
Once it has cooled: add the soy sauce, sesame oil, and cornstarch, stirring until cornstarch has blended with liquid. You can use a whip to blend it if needed.
If it is still very warm, it might be easier to put the cornstarch in a small bowl, add some of the liquid, mix, then add to the large bowl of sauce and stir in. If using ground ginger or garlic powder, add them to the sauce too.
Put half the fresh garlic and ginger in the oil, and then add the chicken and brown until cooked through.(about 4-6 minutes for chunks, 6-8 for strips) Remove from oil, drain and keep it warm. Add the onions, and when they are transparent, add the carrots and celery. Stir fry for 2 minutes, then add the broccoli. If using any other vegetables add them after the broccoli has cooked about 2 minutes. Add remaining ginger and garlic.
Add the chicken back in. When vegetables are just cooked through, add the liquid with cornstarch. Let it come to a boil and bubble for 1 minute. Serve over cooked rice.
Optional:
Add any of the following, or subsitute for the celery. If adding more than 2 cups additional vegetables, add 1/2 tsp bouillon, 1 1/2 Tablespoons cornstarch, 1/2 cup water to the basic recipe. If you are using 2 cups cabbage count it as 1 cup for this purpose.
You might need to increase soy sauce by 1 Tablespoon also. You could raise the meat to 1 1/2 lbs if you add several cups vegetables. You will also need slightly more cooking oil.
2 cups shredded (sliced 1/4 strips) bok choy or regular cabbage
12 fresh mushrooms or a can of muchroom stems and pieces (4-6 oz), drained
1 red bell pepper cut into strips (seeds and pith removed)(add with broccoli)
1 can sliced water chestnuts (Dynasty), drained and rinsed
1 can bamboo shoots(Dynasty), drained and rinsed
1/2 pound fresh or 1 can bean sprouts (La Choy), drained and rinsed
1/2 pound snow peas, trimmed (fresh or frozen)
1/2 pound fresh or frozen green beans (add with the carrots)
1/2 cup frozen green peas
Add either of these if you like, but only after you've healed at least 2 months:
1/2 cup toasted slivered almonds or cashews (add at the very end)
1/4 tsp crushed red pepper flakes, (add with brocolli, distribute well)
This simple chicken stir fry can be made quickly if you cut your vegetables ahead of time. Have everything chopped and ready in bowls before you start cooking. It is a nourishing and tasty gluten free meal.
If you are soy intolerant, then use my Soy Sauce Substition Recipe. Also, be careful when buying fresh bean sprouts, to be sure they are mung beans, not soy bean sprouts.


from Chicken Stir Fry back to Gluten Free Recipes

from Chicken Stir Fry back to Quick Start Menu and List

back to Gluten Free Diet Help Home Page